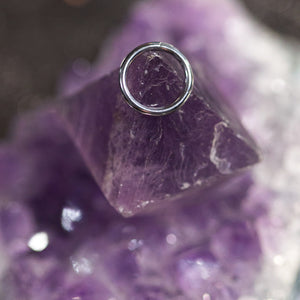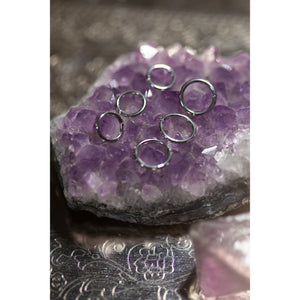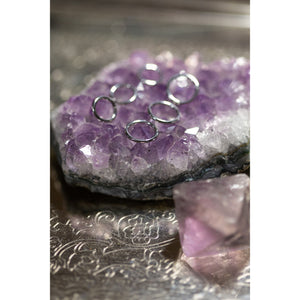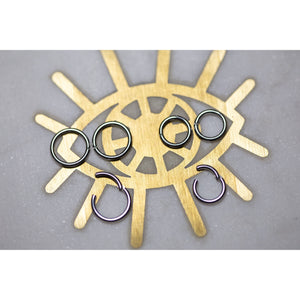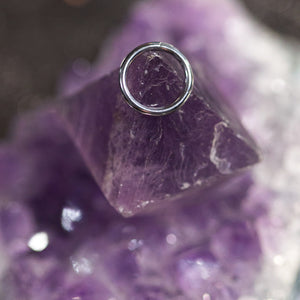 316L Stainless Steel Hinged "Clicker" Segment Ring: Hoop: 16g, 8mm, 6mm
COMPOSITION:
Each 16g (1.2mm) hinged ring is fabricated from 316L surgical grade, nickel free, hypoallergenic stainless steel.  Clicker rings are available in 10mm, 8mm or 6mm diameter.  For reference, the model in the gallery usually wears a 5/8" plug and is wearing a stack of five rings in each ear in the 6mm diameter size.
QUANTITY:
This listing is per piece, order quantity "1" for 1 (one) 316L stainless steel hinged "clicker" segment ring.  For those ordering ring stacks, set quantity to the total number of rings you need.  For example, if you're planning to stack 3 rings in each earlobe, order total quantity of 6.
INSTALLATION:
Your ability to install your own clicker ring is completely dependent on the location of your piercing, diameter of your ring(s) vs. dexterity of your fingers.  Should you encounter difficulties during installation, it is recommended that you seek assistance from your local licensed piercing artist. 
Body jewelry is a final sale item and cannot be returned or exchanged for the safety of our clients.  Please be sure to double check your diameter and gauge measurements (using calipers or similar) before placing your order.  
Your plug plug, 
70K