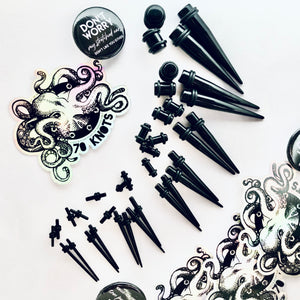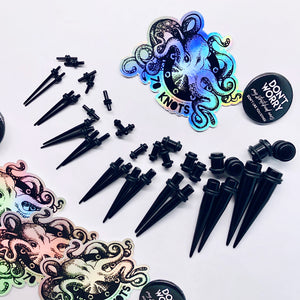 36 Piece Taper Kit: 14G (1.6mm) to 00G (10mm), Black UV Acrylic Set
New to stretching?  Start here.

Each kit contains 36 pieces, individually bagged and labeled UV black acrylic tapers, placeholder plugs and corresponding rubber o-rings for each size:
14 Gauge (1.6mm)
12 Gauge (2mm)
10 Gauge (2.4mm)
8 Gauge (3.2mm)
6 Gauge (4mm)
2 Gauge (6mm)
4 Gauge (5mm)
0 Gauge (8mm)
00 Gauge (10mm)
Always stretch responsibly.  Please feel free to contact your local licensed piercer for additional questions and assistance.