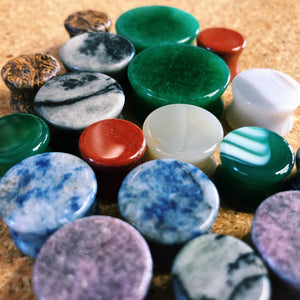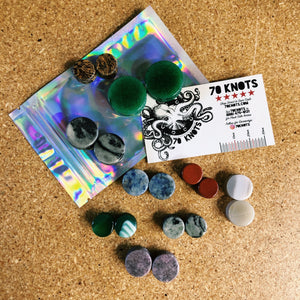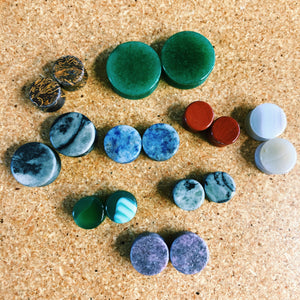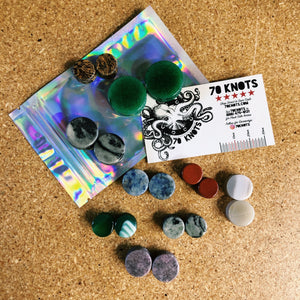 70K Mystery Pack - 3 Pairs of Plugs in Your Size
Pick your Size & Receive 3 Mystery Pairs of Plugs:

2g - 6mm
0g - 8mm
00g - 10mm
7/16" - 11mm
1/2" - 12.7mm
9/16" - 14mm
5/8" - 16mm
3/4" - 19mm
7/8" - 22mm
1" - 25mm

WHAT IS A MYSTERY PACK?
1 Mystery Pack = randomly selected 3 pairs of plugs (6 single plugs) in your size.
Sometimes we end up with mismatched patterns, color anomalies or lighter or darker tones than the range that we typically offer in each material. Other times, we've discontinued a material and only have a few pairs left in very limited sizes. Because of these variations, we have a limited stock of plugs that are offered in bundles at a heavily discounted rate.  

Mystery Pack pairs will match in size, but are not likely to match in pattern or tone. Mystery Packs can include round plug shapes, teardrop plug shapes, tunnels, glass or stone. Mystery Packs are a perfect option for those with only one stretched lobe looking for lots of variety, or for those who are not yet finished with their stretching journey and don't want to invest too much in their current/temporary size.

PREFERENCES:
Available materials for Mystery Packs change daily. We cannot accommodate specific stone, glass, or color requests in our Mystery Pack orders.

AVAILABILITY:
If your size is not available in the drop down menu, that size is out of stock. When we have more grab bag-grade stone in that size, we will re-enable that size option in the drop down menu - so check back periodically!

SIZING:
Double flared plugs are always measured using a micrometer caliper on the middle of the plug saddle, also known as the "wearable area". This type of jewelry is designed to be held in place by being a few millimeters wider on the outside edges to eliminate the need for o-rings. Insert double flared plugs at an angle for a proper fit.

Because stone and glass plugs are heavier than other jewelry materials, they tend to have slightly larger flares in order to keep them snug in your ears. Keep this in mind when ordering stone plugs.

RETURNS/EXCHANGES:
For the safety of our customers, we cannot accept returns or exchanges on these wearable items.

ALL BODY JEWELRY SALES ARE FINAL

-70 Knots