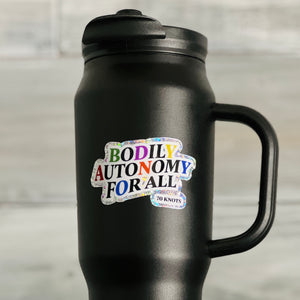 BODILY AUTONOMY FOR ALL - 3" x 1.84" Heavy Duty Glitter Sticker
This listing is for one 3" x 1.84" heavy duty holographic glitter sticker.
BODILY AUTONOMY FOR ALL.
Simply put, bodily autonomy means having the right to make decisions about your own body without being forced or controlled by others.
While 70 Knots has always been a vocal proponent of bodily autonomy, we live in an unfortunate and unacceptable reality in which our bodies continue to be a battleground -- far beyond the world of body modification. For this reason, 70 Knots is a longtime supporter of several organizations that help facilitate access to affirming care for all members of the LGBTQIA+ community. 

All proceeds from the sale of this sticker are donated to Trans Lifeline 
Happy Pride,
70K