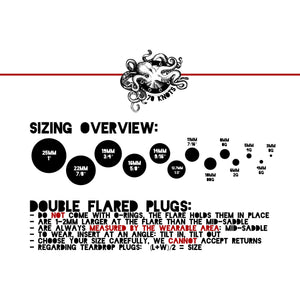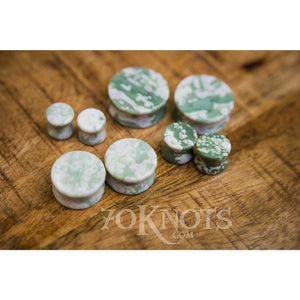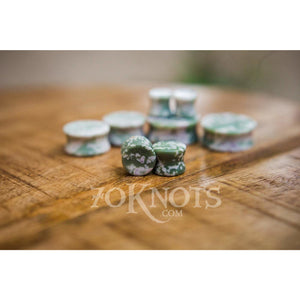 Peace Jade Plugs, Double Flared Pair, Organic Plugs
This listing is for one pair of peace jade stone plugs. They are double flared, polished, and available in sizes 6mm to 25mm.
2g - 6mm
0g - 8mm
00g - 10mm
7/16" - 11mm
1/2" - 12.7mm
9/16" - 14mm
5/8" - 16mm
3/4" - 19mm
7/8" - 22mm
1" - 25mm
AVAILABILITY:
If your size is not available in the drop down menu, that size is out of stock. When we have more stone in that size, we will re-enable that size option in the drop down menu - so check back periodically! :)
COLOR & PATTERN:
Please be sure to view all of the images in our gallery for this listing to get a better idea of the variations that are possible in this type of stone. Thank you for understanding that this is an organic item, not man-made or manufactured, so no two pairs will be the same. There will be slight variations in the colors and patterns that are out of our control.
SIZING:
Double flared plugs are always measured using a micrometer caliper on the middle of the plug saddle, also known as the "wearable area". This type of jewelry is designed to be held in place by being a few millimeters wider on the outside edges to eliminate the need for o-rings. Insert double flared plugs at an angle for a proper fit.
Because stone plugs are heavier than other jewelry materials, they tend to have slightly larger flares in order to keep them snug in your ears. Keep this in mind when ordering stone plugs.
RETURNS/EXCHANGES:
For the safety of our customers, we cannot accept returns or exchanges on these wearable items.
ALL BODY JEWELRY SALES ARE FINAL
xo,
70K Sirens