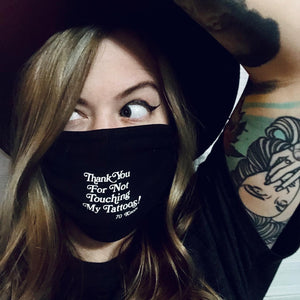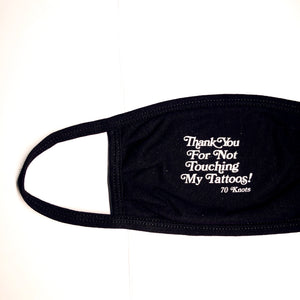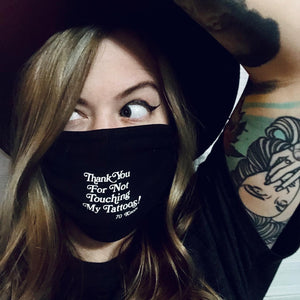 THANK YOU for Not Touching My Tattoos, 3-Ply Cotton Facemask
N O  T O U C H I N G
Say it with your face.
Locally hand-screened and hot off the press, limited run - once they're gone, they're gone.  Machine wash on delicates or hand wash, hang dry only.  
Soft ear loops, pleated edges, black inner and outer.
Socially-Distanced-xo,
70K
Mask Information from Port Authority:
Designed for maximum comfort, the Port Authority® Cotton Knit Face Mask goes beyond standard cotton masks thanks to incorporation of Sciessent's Agion® treatment into the fabric. 
This three-ply, 100% cotton jersey face mask covers the wearer's nose and mouth. Elastic binding with slight stretch and ear loops help hold it comfortably in place. 
Three-ply 100% cotton jersey

Fabric touching skin: 100% cotton

Mask contains silver and copper

Three evenly-spaced pleats on each side

Machine washable, cold wash, hang dry only